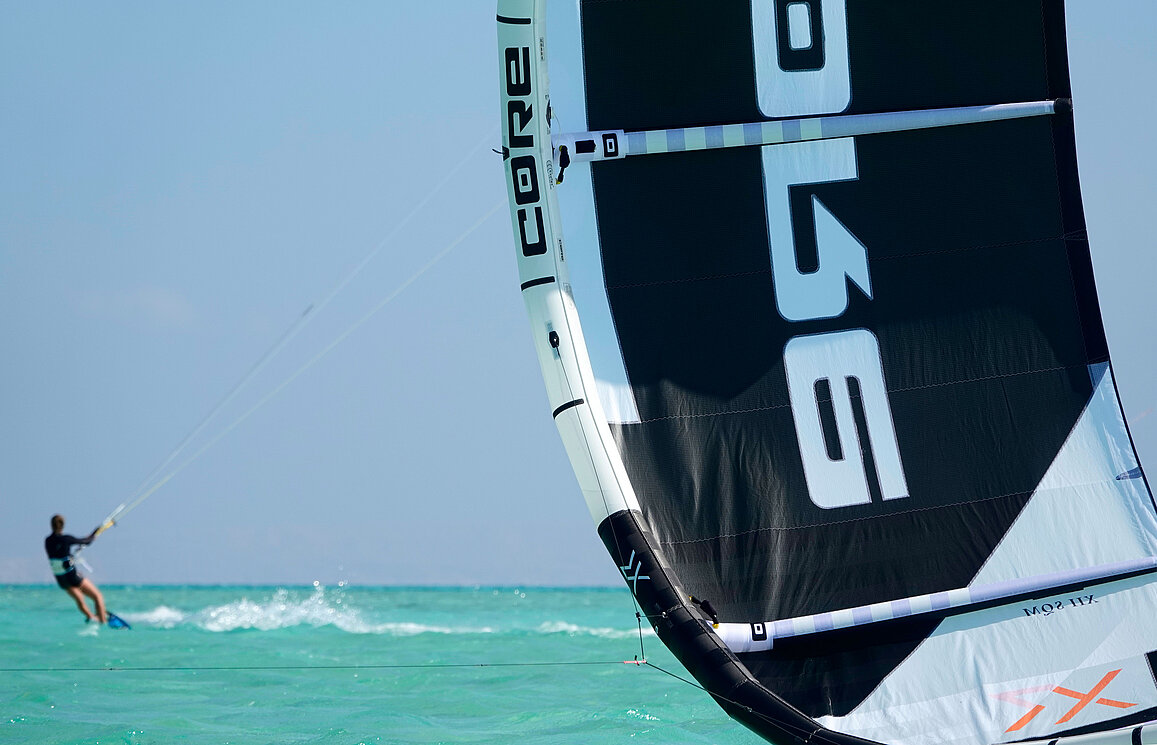 Enjoy the space of two spots
Enjoy the space of two spots
Kite Rental
Shallow water lagoon and deep water spot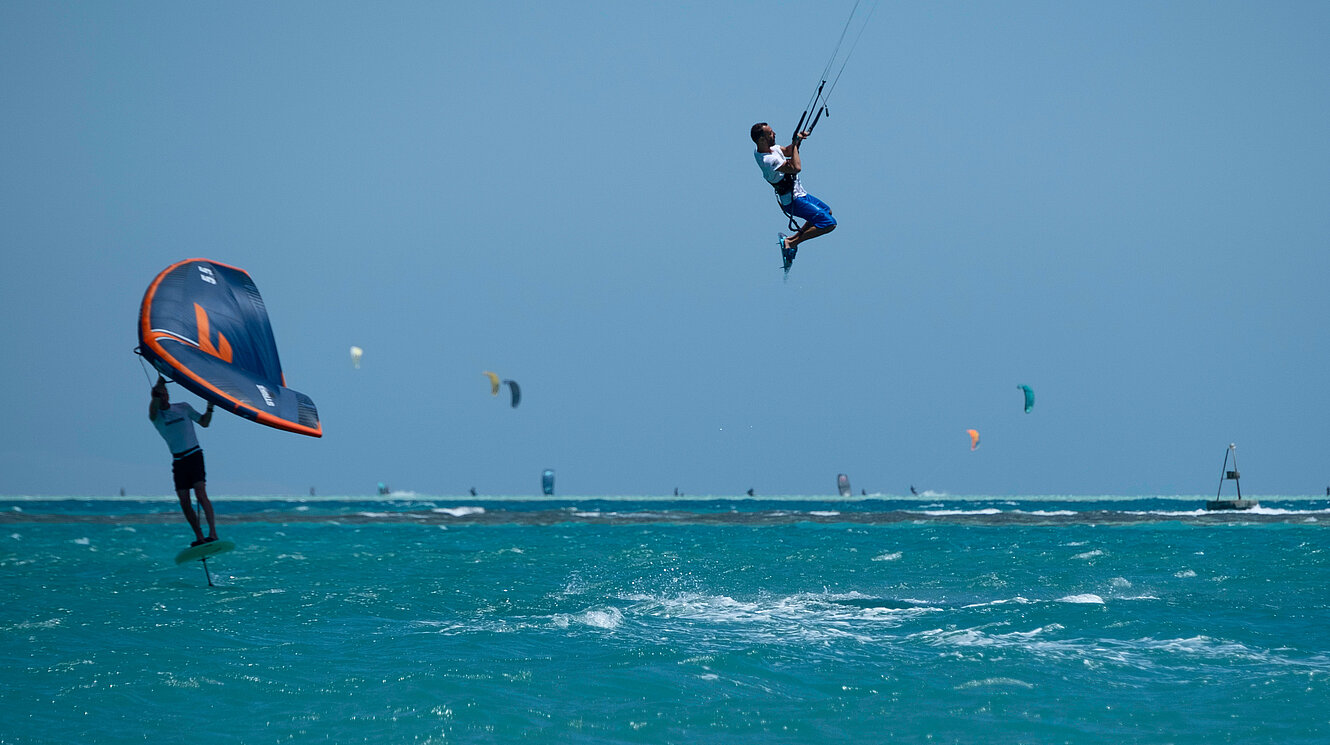 Enjoy the space of two spots
Enjoy the space of two spots
Kite Rental
Shallow water lagoon and deep water spot
Kite Equipment Rental
For advanced kiters
The base for a great kiteboarding vaccation is the combination of the spot, the wind conditions, the atmosphere at the kite spot, the professionalism of instrucors, staff and management and the training materials.
At Osmosis Kiteboarding you find this combination.

The minimum requirements to rent at Osmosis Kiteboarding are You are able to rent kite equipment VDWS level 5 or equivelant plus the skills of safe and controlled kiting in deep water (minimum level of going upwind).

Besides kite equipment you can also rent or learn kite foiling and wing foiling.
Foil Center or Wing Center for all information.
Rental Facts
Good to know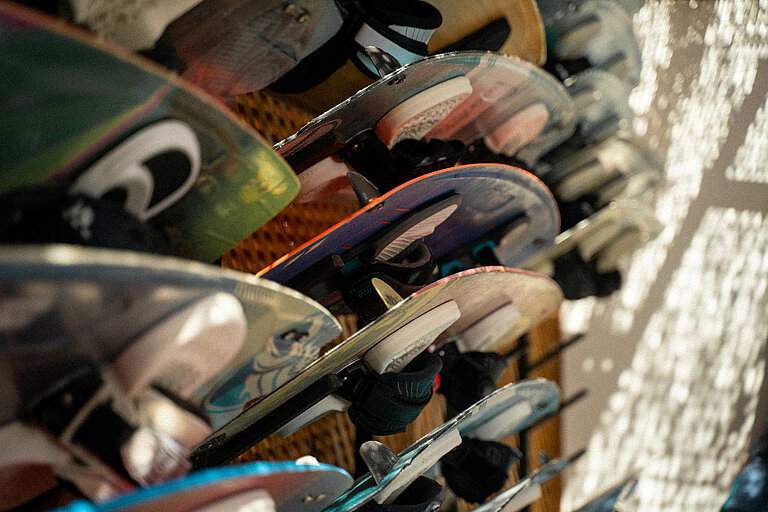 Kite equipment at Osmosis Kiteboarding El Gouna
Kites from Core and North Kiteboarding, sizes from 4m-17m
Boards from North, Duotone, Cabrinha, RL, RRD and Goodboards, sizes from 132cm -160cm
Waveboards from Fone and RRD
Foilboards (Kite Foil Center)
Wings and Wingfoils (Wing Foil Center)
Harness and shoes included in full equipment rent

RENTAL RESERVATION
Minumum kite skills you need to bring rent kite equipment:
Swimming
Good and controlled kiting skills
Safe kiting in deep water
Going upwind in deep water
Knowledge of up-wind bodydrag
Re-launch skills
Knowing your safety-system (quick release)
Knowledge of self-rescue
Knowledge of priority rules

RENTAL RESERVATION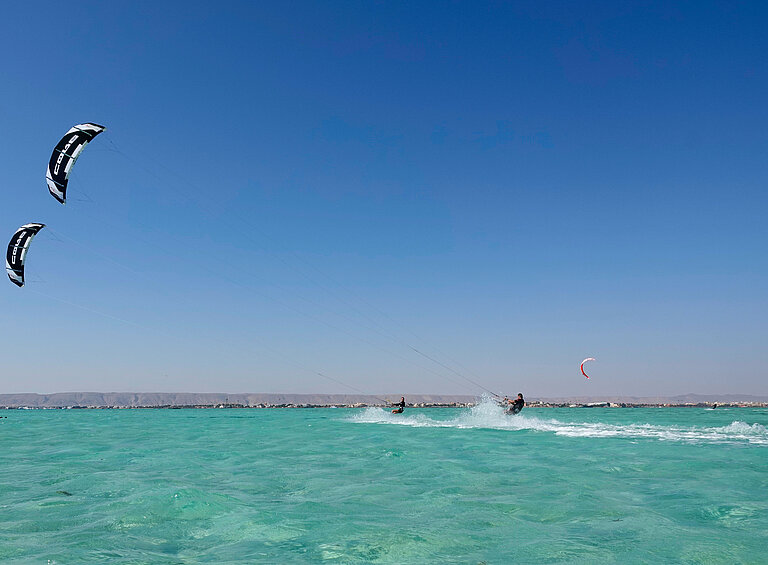 Prices rental kite equipment
Price per person
| Duration | Full equipment | Kite only | Board only |
| --- | --- | --- | --- |
| 1/2 day | 55,00 € | 40,00 € | 20,00 € |
| 1 day | 95,00 € | 70,00 € | 35,00 € |
| 2 days | 185,00 € | 135,00 € | 60,00 € |
| 3 days | 245,00 € | 195,00 € | 85,00 € |
| 4 days | 285,00 € | 250,00 € | 105,00 € |
| 5 days | 325,00 € | 290,00 € | 120,00 € |
| 6 days | 365,00 € | 325,00 € | 135,00 € |
| 7 days | 365,00 € | 325,00 € | 135,00 € |
| 8 days | 400,00 € | 360,00 € | 150,00 € |
| 9 days | 435,00 € | 395,00€ | 165,00 € |
| 10 days | 460,00 € | 425,00 € | 180,00 € |
| 11 days | 485,00 € | 450,00 € | 195,00 € |
| 12 days | 505,00 € | 475,00 € | 210,00 € |
| 13 days | 525,00 € | 500,00 € | 225,00 € |
| 14 days | 525,00 € | 500,00 € | 225,00 € |
| extra day | + 20,00 € | + 15,00 € | + 7,50 € |