Foil Center
Unleash the thrills of kite foiling and wing foiling
Welcome to our Foil Center, where a new dimension of water sports awaits. Experience the exhilaration of riding above the water's surface as you delve into the captivating realms of kite foiling and wing foiling. At Osmosis, we provide the perfect conditions for mastering these exciting disciplines and embarking on unforgettable adventures.
Foil center highlights:
Discover the art of kite foiling, where you effortlessly glide above the water with the aid of a hydrofoil attached to your kiteboard. Our Foil Center offers ideal settings and resources to help you excel in this exhilarating sport.
Immerse yourself in the world of wing foiling, a thrilling combination of windsurfing, kiteboarding, and foiling. Harness the power of the wind with a handheld wing, ride the waves, and soar above the water's surface. Osmosis provides the ultimate playground for mastering this innovative water sport.
Whether you're a seasoned foiler or a curious beginner, our Foil Center is equipped to cater to your needs.
Explore the endless possibilities and push your skills to new heights as you embark on a remarkable foiling journey at Osmosis.
Unleash your potential, embrace the exhilaration, and experience the thrill of kite foiling and wing foiling at our renowned Foil Center. Join us at Osmosis and discover a world where boundaries are transcended and adventure knows no limits.
Facts foiling
Kite foiling and wing foiling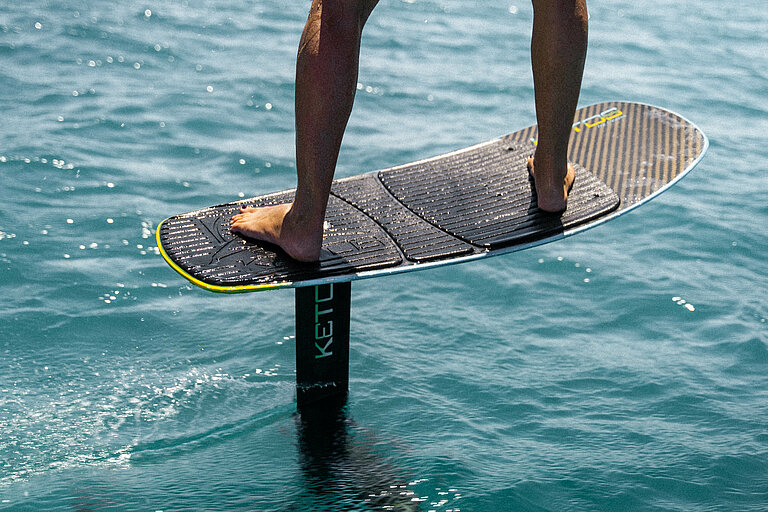 Perfect spot to learn kite foiling and to enjoy it:
Short walk to deep water
Free access to deep water (no reef barrier)
Boat for rescue and support
Very experienced team
Private lessons in French, German and English
Foilboards for beginners and pros
One-strut kites for foil rent

KITE FOIL RESERVATION
Best place to learn wing foiling and to enjoy it:
Only a short walk to deep water
Free access to deep water - no reef barrier
Boat for rescue and support
Very experienced team
Private- and Semiprivate lessons in French, German and English
Wingfoils for beginners and pros
Wings in all sizes

WING FOIL RESERVATION